A Life's Journey: The Journey of Professional Football Safety Tyson Graham Jr.
A Grueling Passion:
     The life of a professional athlete is a grueling and risky one. Athletes make careers off of their physical ability, which is only improved through constant bodily conditioning and mental workouts. To be a professional athlete, competitors must dedicate their lives to their craft or they might not survive in the cut throat world of professional sports for long. In no other sport is this more evident than football, where players are given a 10-to-12-year window of opportunity to put all they have onto the field before they become too old to keep up with younger talents. Constant dieting and exercise is needed to become stronger, faster and more prepared than opponents, and one bad injury can ruin their chance in the pros altogether. With such high demands for America's most beloved sport, it is amazing to see how many people put their bodies on the line in hopes of landing with an NFL team. Tyson Graham Jr. is one of these people and has been in and out of the NFL for years but still works on being the best athlete he can be to achieve his football dream. Tyson graciously offered his time to speak with me and share what happened in his life to make him an NFL hopeful. 
A Homegrown Dream:
     Tyson was born in 1993 in Pompano Beach, Florida, where he began his love for football playing for a Pop Warner team at five years old. He was a natural, excelling both on offense and defense throughout his childhood and even into high school, and after bouncing around between the public and private school systems, Tyson made a name for himself playing safety and wide receiver for the Highland Christian Academy Knights. It was with the Knights that Tyson realized football was the passion he wanted to pursue. 
     "I knew football was for me after the feeling of just scoring two or three touchdowns a game," Tyson recalled, "It was just such a great feeling of domination with the crowd behind you." 
     It was this dominance on the field that drove Tyson to becoming the best player he could be. By senior year, he recorded 10 touchdowns and 500 yards as a wide receiver and 96 tackles as a safety, earning recognition as one of the top 50 players in Broward County and receiving Defensive Player of the Year and All-Conference Honors. The future seemed bright for Tyson, but sadly a late recruiting process kept him out of sight of many top-tier schools, creating a major speed bump on his road to the pros. With time running out, he quickly resorted to the only college offering him a full athletic scholarship, the University of South Dakota. 
A New Level: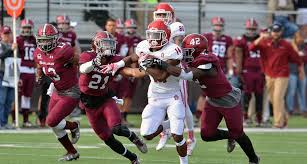 Going into college, Tyson was originally recruited to play wide receiver for the USD Coyotes, and he held that position throughout his redshirt freshman year. He even started three games at receiver the next season before head coach Joe Glenn saw potential in Tyson's 6'2, 210-pound frame and decided to move him to free safety. 
     "It wasn't that hard of a transition because I played safety in high school," said Tyson, "I honestly love hitting people [and] I try to follow the play style of guys like Kam [Chancellor] or Sean Taylor." 
     This move to defense revitalized Tyson's football career, allowing him to stand out in the years to come. By his sophomore year in 2014, Tyson led the team with 97 tackles and seven pass deflections, despite having only started 9 of 12 games. 
     "I even hit Marcus [Mariota]," Tyson reminisces fondly. After all, not everyone gets their chance to tackle a Heisman winner and eventual NFL starting quarterback.
     Although he played at a smaller school, such highlights made the sky the limit for Tyson, who received major recognition from fans and teammates as a young sophomore. The next year, however, saw a slump in Tyson's production, only posting 71 tackles in 11 games, and senior year would truly be the greatest test in the young player's career. In his last season, the then team captain was forced into another position change after injuries struck the team, this time moving in the box to outside linebacker. In nine games, Tyson recorded 3.0 sacks along with 5.0 tackles-for-loss, but the position change took a toll on his statistical productivity; he finished with 60 tackles in the 2016 season. Tyson left college on somewhat of a low note, but although he never quite replicated the success he had in his sophomore campaign, he still dreamed of a chance in the NFL.
Journey to the Pros: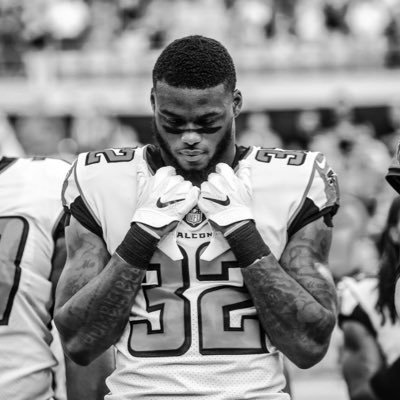 As predicted, Tyson wasn't drafted, but he was invited to try out as a free agent for the Indianapolis Colts following his graduation. This wasn't a guarantee to get signed though, as he needed to prove himself in front of the team in order to be considered for a roster spot. 
     "You can only show them so much with limited reps," said Tyson during his first week of tryouts. "I was going to have to maximize those reps and do the best I could do for them if they were going to sign me." 
     Luckily he did prove himself and was eventually signed to the preseason roster. However, his time with the organization didn't last long after being released before the regular season. While it was hard dealing with such harsh rejection during his first stint in the NFL, Tyson didn't give up, opting instead to play in The Spring League, an organization that acts as a platform for hopeful players to showcase their skills to professional scouts. 
     "My agent guided me to The Spring League to get another opportunity in the NFL," Tyson explained, "Scouts were watching, and luckily the Falcons called me up." 
     It was with the Falcons that Tyson found himself surrounded by such great talents as Matt Ryan and Julio Jones. His biggest influence though came from starting strong safety Keanu Neal. Keanu, who was drafted only a year before Tyson's first signing, shared many of the same physical play styles as Tyson and had even worked out with Kam Chancellor in person. 
     "The one player who I talked to a lot was Keanu," explained Tyson. "He plays a similar game to me, and I got to pick up a lot of things from him in person." 
     Tyson sights Keanu as one of his greatest teammate mentors and still keeps in contact with him to this day. Sadly however, Tyson would not get the chance to try at the NFL level as he was once again released before getting an opportunity to play in a regular-season game. 
Another Chance: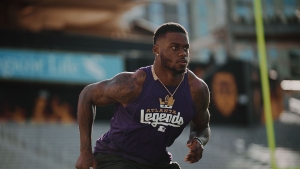 By 2019, with time running out on the 25 year-old safety's short career, Tyson found another chance to play in the newly formed Alliance of American Football (AAF). Like The Spring League, the AAF provided a chance for NFL hopefuls to be seen in hopes of reaching the NFL. Unlike The Spring League though, the AAF promised a full season of football with eight teams across the country fighting for a championship. The AAF essentially promised to be a development league for the NFL, and Tyson joined the Atlanta Legends in hopes of eventually showing that he can be an elite-level talent.
     Originally, things were looking up for Tyson. Just as he had dominated early in college, Tyson immediately made an impact for the Legends. By week five of the season Tyson led the whole league in tackles. However, by week eight he had fallen to fourth before the unthinkable happened. The AAF, which had been rumored to be on the verge of bankruptcy, officially suspended football operations on April 2, essentially shutting down the league altogether. Tyson and his teammates were all surprised at the news, but not angered. 
     "I'm happy that I got my time on the field in," explained Tyson. "We were all a little shocked to hear the league was closing, but no one was really upset about it." 
A Constant Pursuit:
     For Tyson and most of the players, playing in the AAF was never about winning a championship, but instead gaining recognition. They all had NFL dreams, and while most will never see an NFL field again, Tyson is already on his journey to hopefully getting a third chance at his dream. He was recently signed to the Carolina Panthers' 2019 Rookie Mini-Camp during the offseason, but now finds himself as a free agent mid-way through the 2019-2020 NFL season. 
     When asked about his dream scenario in the upcoming months, Tyson replied, "My dream is to get signed with an NFL team and make the 53-man roster, and it's gonna happen… I know I'm not done with football yet. My family is here to support me in what I do, and football is what I plan to do." 
     Tyson's journey through life is one marked by adversity, change, and passion. From childhood, he has been honing his craft not only to beat out his competition, but to follow a dream and play on the field at an elite level. He has gone through numerous changes, including multiple shifts in position, which have both set him back in perfecting technique while also allowing him to reach a new potential in different systems. Although he has successfully graduated from college and can pursue any career he chooses, Tyson still sticks with the burning passion which he has been following since high school. Time is ticking on this NFL hopeful's career, but with all the work he has put in to be recognized, both on and off the field, I am sure that we will be seeing the name "Tyson Graham Jr." roll across our screens very soon.