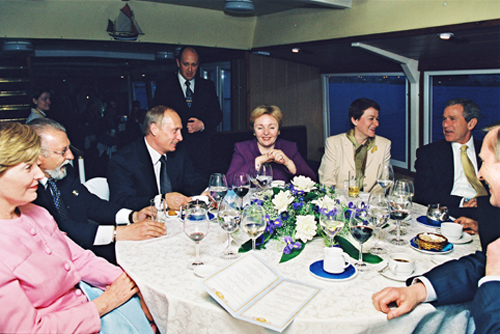 At 5:30 P.M. GMT +3 on August 23, an Embraer Legacy 600 jet took off from an airport near Moscow. The plane was recorded as it suddenly spiraled out of the sky before making impact in Russia's Tver Oblast, several miles away from its intended destination of the port city of Saint Petersburg. Among the plane's passengers were some of the most powerful and controversial figures in the last decade of Russian history, but one man stood out above the rest: hotdog salesman, street gangster, and mercenary commander Yevgeny Prigozhin. A previously unknown figure in the web of shadowy pacts and backroom deals that make up Russia's unofficial power structure, Prigozhin caught the public eye for his role in Russia's illegal occupation of the Ukrainian Crimean Peninsula. Since Russia's initial aggression in Ukraine, Prigozhin and his highly skilled mercenary outfit, the Wagner Private Military Company, have served a pivotal role in turning Putin's vision for a new Russian Empire into a reality, performing operations in the Donbas, Sahel and other areas of Ukraine occupied by Russia since 2022. Prigozhin's sudden and unexpected death via plane crash has come under significant scrutiny by both Wagner sympathizers inside Russia and international observers. Who exactly was Yevgeny Prigozhin and what does his sudden death mean for Putin's Russia?
Prigozhin was born in Saint Petersburg (then known as Leningrad) in 1961 to Viktor Prigozhin and Violleta Prigozhina. Owing to his father's early death, Yevgeny was raised by his mother, who worked as a nurse at a nearby hospital. As a boy, Prigozhin was sent to a sporting academy to be trained as an athlete, but as he was unable to make the cut, Prigozhin fell in with a group of petty street criminals. Around the 1980s, Prigozhin was found guilty of a series of robberies by Russian authorities and sentenced to thirteen years in prison. Prigozhin would miss the transformative rule of Gorbachev, and would be released in 1990 to a thoroughly different Russia. The Soviet Union, the country in which Prigozhin had been born, had ceased to exist entirely. Dr. Carl Ackerman, a former AP history teacher at Punahou school who received a doctorate of European History with a focus on Russia from U.C. Berkeley in 2002, says, "While President Boris Yeltsin tried to manage the shift to capitalism from Marxist-Lenisnist socialism, prices soared… It was a bit of economic chaos – especially for middle-aged and older people, but the young were adapting." A young and resourceful Prigozhin would wholly embrace Russia's new capitalist system, selling hotdogs on the same streets he had once prowled as a criminal. "We made $1,000 dollars a month, which in Ruble notes was a mountain; my mom could hardly count it all," Prigozhin told the Russian news outlet. Prigozhin's entrepreneurial spirit would eventually lead him to expand into supermarkets and restaurants, including The Old Customs House in Saint Petersburg, which was frequented by Saint Peterburg's Mayor, Anatoly Sobchak and his deputy, a rising political star by the name of Vladimir Putin.
In 2000, when Putin succeeded Yeltsin as Russia's president, he frequently met foreign dignitaries in his hometown of Saint Petersburg, often at one of Prigozhin's establishments. "Putin and Prigozhin grew up in the same city, and both had thuggish beginnings," said Dr. Ackerman. Naturally, as a consequence of their shared ambitions and converging backgrounds, the two would develop a close partnership throughout the 2000s and 2010s, with Prigozhin entering the political apparatus by pursuing lucrative Russian Military catering contracts, earning him the sobriquet: "Putin's Chef." Through his contacts in the State Duma, Russia's parliament, Prigozhin was even able to persuade the Russian government to alter bidding laws, allowing his companies to snap up public development projects worth millions of dollars. With the money from both his private and government sponsored ventures, Prigozhin was able to move himself and his family into a lavish Saint Petersburg mansion. Nevertheless, he was unsatisfied and eager to prove himself to both his presidential patron and his fellow oligarchs, many of which regarded him as little more than an uppity common crook, Prigozhin made the leap to his next big project– Wagner.
Shrouded in mystery and intrigue, the Russian private military contractor Wagner PMC sprang into existence to support a gap in Russia's strategic capabilities. Needing a way to project power in areas either inconvenient or illegal for Russian military personnel to tread, Wagner was created as a private paramilitary aimed at covertly supporting Russian military interests. Because Wagner PMC is technically a private company, the Kremlin believed it could employ Wagner assets without directly implicating itself in any war crimes or violations of international law the group might commit. Wagner troops operating Syria have been accused of murdering and robbing civilians, as well as executing suspected deserters with sledgehammers. Commanded from the ground by the shadowy former Spetsnaz officer and neo Nazi by the name of Demitri Utkin, and managed by Yevgeny Prigozhin, the nascent mercenary outfit made its European debut in 2014 when Russia illegally occupied the strategically important Ukrainian Crimean Peninsula. Wagner troops would later see further action in the eastern Ukrainian region of Donbas fighting alongside pro-Russian terrorists who wished to separate from Ukraine and join Russia in violation of Ukrainian law. Finally, on Feb. 24 2022, Wagner troops marched alongside Russian regulars to participate in a full scale invasion of the country.
With the advent of Russia's open aggression against Ukraine came a whole new set of problems and opportunities for Prigozhin. With the warlord's Wganer troops gaining increasing prominence on the battlefield, the wily oligarch would adopt a new and far more public facing persona. After initial Russian attempts to capture the Ukrainian capital city of Kiev, most of Russia's gains were made in the south and east, where experienced Wagner troops had been operating for years prior to the start of the full scale invasion. Wagner formed the spearhead of Russian attacks on the cities of Severodonetsk and Lysychansk in Ukraine's Donetsk Oblast. While the regular Russian army was making only marginal progress, Wagner units demonstrated an effectiveness that the regular Russian armed forces lacked. This success on the battlefield translated directly to increase prestige and popularity for Prigozhin among a warweary Russian public. On top of this boost in public support, Prigozhin's Wagner PMC had swelled in numbers as a result of efforts to recruit criminals from Russian prisons. Both of these developments deeply vexed Russia's sitting defense minister Sergei Shoigu, who saw Prigozhin's increasing popularity and the increasing influence of Wagner within the armed forces as a threat to his own position. Shoigu would make efforts to integrate Wagner troops into the regular Russian Army, and Prigozhin would resist, accusing Shoigu of depriving Wagner of shells and even of friendly fire directed at Wagner by regular military units. On June 23, 2023, the feud between the two men exploded into open conflict. Prigozhin announced on the Russian social media network Telegram that his Wagner Forces would begin a "March of Justice" to rid the military and Kremlin leadership of elements unfriendly to him. Wagner troops marched from Ukraine into the southern Russian city of Rostov on Don, the headquarters of Russia's Southern Military District, and occupied it. A column of Wagner troops then began marching north to Russia's capital of Moscow. Barricades were prepared and Putin's private jet fled the city, likely with him on it. It seemed that Prigozhin was about to overthrow the Russian government. When Wagner troops were just a couple miles from Moscow however, they stopped. "I do not think that Prigozhin opposed Putin as much as the traditional military apparatus which had a separate command," stated Dr. Ackerman. "The march on Moscow was based on his frustration with this command." Prigozhin, however, appeared to flinch at the last moment, and resorted instead to formulating a deal with Putin whereby he would be absolved of all wrongdoing in exchange for transferring Wagner command to the Russian army, which he did. It seemed that Prioghin would be allowed to go free, but this supposition proved false when Prigozhin's private jet was downed on its way to his home city.
While Putin's involvement in the crash is not confirmed, it is extremely likely. Dr. Ackerman says, "Prigozhin thought he was indispensable to Putin and that President Putin was his friend—both thoughts were erroneously formulated. Putin was waiting for the right time, and he wanted to be able to control the Wagner troops." Prigozhin tried and failed to change the Russian status quo in which Putin seems more determined now than ever before to preserve. "It has been made clear to most oligarchs that you do not disagree with Putin or death will await you," says Dr. Ackerman. "At this point Vladimir Putin is in control of Russia." Yevgeny Priogozhin's life was spent in service to Putin's regime, and so too will his death send a powerful message to both Putin's friends and allies. Russia won't be changing hands any time soon.