What the Future Holds For Electric Cars and Tesla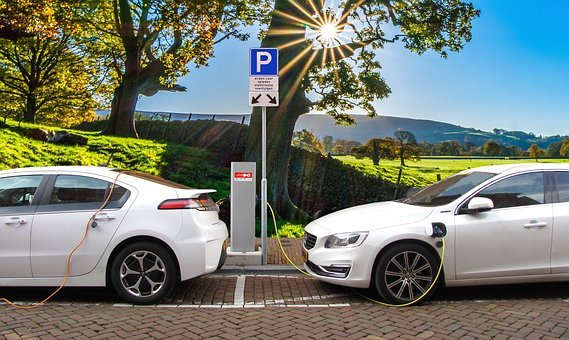 Electric vehicles (EVs) have been around for decades, but only in recent years have non-electric car companies realized that the future lies with EVs. Companies like General Motors and Volvo have announced that they will be going all electric by 2040 or 2030 respectively. Volkswagen has announced their production will be 70% electric by 2030. Why is it so important to the further development of EVs that these companies go all electric and what does this entail for the combustion engine?
To begin, General Motors (GM) is known for its inefficient cars in the past like the Hummer H2 which only got 10 miles per gallon and was discontinued in 2009. These gas-guzzling trucks and large SUVs like the 2010 Chevrolet Suburban which got only 17 miles per gallon were very unpopular with environmentalists because of the amount of gas they burned in such a short amount of time. The announcement of going all electric and zero-emission is a big jump for any car company and a evidently surprising one from GM as they produced cars like the H2 only 12 years ago. However, this is not the first time GM has manufactured electric cars. In 1997, GM made the EV1 which received praise from environmentalists, but it had about the range of a modern electric scooter and only seated two people. Also, the EV1 was pretty slow doing 0-60mph in 8.4 seconds as tested by Car and Driver, a well known and credible magazine for automotive enthusiasts, and could only reach a speed of 80 miles per hour. With little success in the past with electric cars, it will be interesting to see where this electric path takes General Motors now.
Another company going all electric is Volkswagen (VW). The German company announced that it would be producing 70% electric cars by 2030. Volkswagen has had legal trouble over the diesel emissions and the carbon footprint of their cars in the past. In 2015, the scandal first surfaced and as a result Volkswagen had to pay almost $36 billion in international fines because of a software fitted to all Volkswagens, Audi, Seat and Skoda cars. This software lowered harmful nitrogen emissions while the car was undergoing testing. This massive case included 470,000 owners of diesel cars sold by the Volkswagen group from Nov. 1, 2008 on. Volkswagen admitted to the accusations in 2015 and said that 11 million cars were involved in the scandal. Nevertheless, it is not a surprise that Volkswagen is going all electric. Volkswagen executives have even admitted to speeding up the company's transition to all electric cars to attempt to repair their reputation. This new path VW is taking will help their reputation down the road and will probably be good for future car markets as well. Volkswagen's first all-electric sedan has been planned for release in 2026.
The last company to announce its transition to EVs is Volvo. Recently, Volvo has been devoted to being a more eco-friendly company. The company's newest factory in Skövde, Sweden is the first Volvo factory to be climate-neutral and as of 2018, Volvo's engine factory has used renewable heating methods for the plant. Henrik Green is Volvo's chief technology officer and said in a statement that "There is no long-term future for cars with an internal combustion engine," and that Volvo will be committed to becoming an all electric company by 2030. Volvo will also be bringing all car sales online. This means that people will not need to purchase a car in a dealership and can simply buy one from home on Volvo's website. Once purchased, the car will be delivered to your home. CEO Håkan Samuelsson stated "I think it is very important to say this is not … online sales where you pick up the car in some harbor, the car will still be delivered and demonstrated by our partners." Volvo put an all-electric car on the market last year, which will start the decade long transition to all electric cars. 
It seems pretty obvious that the internal combustion engine will be out of use in the future as so many automakers are making the transition from gasoline to battery power. This engine that has been around for over 120 years will not be gone overnight, but it is estimated that 40% of cars will be electric by 2050. This means that the combustion engine in most cars today will become obsolete in the next 100 years or maybe even sooner.
Leave a Comment