GSA Club Makes Presence Felt at Pride Parade
Sherie A., Print Managing Editor
October 29, 2019
From the Stonewall riots to the assassination of early icon Harvey Milk, the LGBTQ+ community has fought tooth and nail for the rights and representation that other Americans have enjoyed for decades. While many have become more open-minded to the LGBTQ+ community in recent years, not everyone has come to accept the equality movement. The 'Iolani's Gender Sexuality Alliance (GSA) club is fighting for change on campus and beyond after participating in the Honolulu Pride Parade on October 19.
Club co-presidents Chadlyn Remedios '22 and Kimberly Wong '22 said,"'Iolani School's GSA was the first [school club] to join [the parade] a few years back, and has been attending Pride every year since." 
The Christian church's relationship with the LGBTQ+ organization has been rocky, however the chaplain's office has come out to fully support the Pride movement. In fact, this year's Pride Parade was coordinated by Reverend Andrew Arakawa's wife, Kimberly Arakawa, who works as the social outreach coordinator for the newly formed St. Mark's Episcopal Church. The church requested a float for the parade, as well as the GSA's presence. 
Rev. Arakawa explained, "I knew that 'Iolani has a GSA group, and I thought it would be a good choice to include them in the parade, along with St. Mark's participation. Since St. Mark's is an Episcopal church and 'Iolani is an Episcopal affiliated school, it felt like the two groups would be a good match." GSA members played an active role in the parade, marching alongside members of St. Mark's Episcopal Church.
The goal of the GSA club is, as Wong said, "To [have] a club that is safe for [both] members and allies of the LGBTQ+ communities to be themselves and to express their identity without the fear of being judged." By attending the parade, 'Iolani's GSA club hopes to extend their support to the LGBTQ+ community outside of school. Member Liberty Lum '22 said, "Participating in the Pride Parade makes me so happy because I get to support an amazing community. The parade helps empower those who need it, and it helps create leaders in the world. Being part of this experience is something that I will never regret."
About the Writer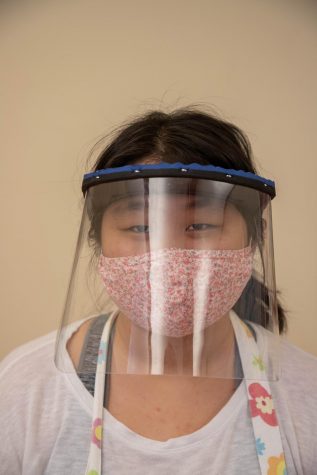 Sherie A., Print Managing Editor
Hi, my name is Sherie and I am the print copy editor for IMUA. My mom actually decided that I should join IMUA, but I chose to stay of my own accord after...