Keables Chair 2020: Erin Entrada Kelly
As the 2020 Keables fortnight approaches its ending, 'Iolani must say goodbye to this year's Harold Keables Chair, New York Times bestselling author Erin Entrada Kelly. Kelly is an accomplished Filipino-American writer of children's literature, winning the 2017 APALA Award for The Land of Forgotten Girls and the 2018 Newbery Medal for Hello, Universe and many more.
During her brief but busy time at 'Iolani, Kelly has spoken to various classes, at Chapel and at last week's Keables Community Night. In her Community Night speech, Kelly shared some of the stories that inspired her to write children's literature. As the only Filipino kid in her hometown in Louisiana, she had a hard time getting along with her classmates and often turned to the empowering world of reading, writing, drawing and creative thinking. Her favorite book, When You Reach Me by Rebecca Stead, had many brief but powerful phrases that influenced her to become a children's author in hopes of continuing to spread the message of empowerment to the youth. Kelly's doodle-filled journal, meanwhile, reflects her imaginative nature, and she shared her doodles with `Iolani students in hopes of inspiring their own imaginations.
As Kelly explained, "Students leave any institution being creative with progressive thoughts, not just with good GPA or test scores. In other words, better education helps students to be creative thinkers, enabling them to possess open mindsets . . . Creativity is just like a muscle\; it improves as you do it. Just be open to trying new things. Even though you do not have a lot of time, try something original, even things like how you take notes or how you study."
Although she departs on a journey to different places for new ideas, Kelly will always belong to 'Iolani 'ohana. 'Iolani, with its exceptional students, multicultural society and incredible opportunities, left a great impression on her, and she hopes that 'Iolani students will not forget the ideals she left here: creativity and an open mindset.
Leave a Comment
About the Contributor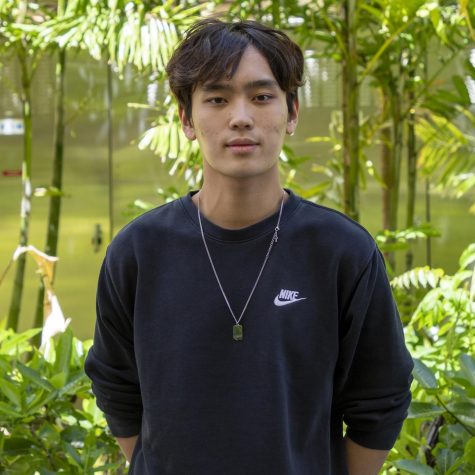 Daniel C., Online Editor-in-Chief
Hi everyone, my name is Daniel and I am the Online Editor-in-Chief for Imua. I decided to join Imua as a freshman because I wanted to challenge myself...