"Youth v Gov" Case Reaches the Hawaiʻi Courts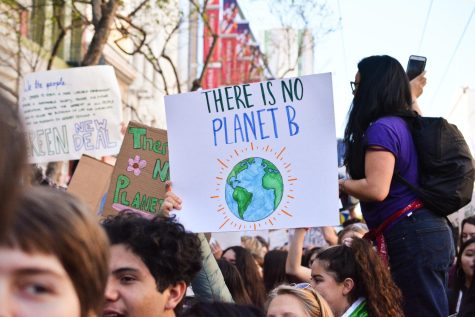 On June 1, 2022, 14 youth filed a lawsuit against the Hawai'i Department of Transportation (HDOT), HDOT Director Jade Butay, former Governor David Ige, and the State of Hawai'i. The case, Navahine F. v. Hawaiʻi Department of Transportation, is one of five active so-called "Youth v. Gov" cases, where young people are suing their governments for not taking the proper steps to resolve the climate crisis. The 14 youth plaintiff's claim that the HDOT's operations have caused high greenhouse gas emissions, causing them significant harm and violating their constitutional right to "live healthful lives in Hawaiʻi now and into the future." The introduction of the suit reads, "Children of Hawai'i—keiki o ka 'āina—who are being seriously injured because Defendants establish, maintain, and operate a state transportation system that violates Hawai'i constitutional mandates to protect public trust resources and the environment by reducing greenhouse gas emissions and decarbonizing the transportation sector."
On Jan. 26, 2023, after the State motioned to dismiss the suit, the youth presented their case in front of a judge to propose why their case should remain active. Dozens of people filled the courtroom to show their support for the youth. Others, who could not make it in, filed into an escape room across the street that was serving as a last minute overflow room and over 150 additional people joined a Zoom meeting to watch the proceedings virtually. Marti Townsend, a lawyer from the nonprofit Earthjustice who is volunteering on the case, expressed her gratitude for the community. She said, "It was, you know, that quiet refrain before doing something scary. At that moment, when we were walking into the courthouse together, and there's no one there. And then we turn around the corner and there's all these people there for them. It was a true chicken skin moment." Following oral arguments, the youth are now waiting for a court ruling on the state's motion to dismiss. 
Despite the lengthy proceedings that come with court cases, the youth have done their best to stay confident. Ms. Townsend said that the youth had a special oli (chant in Hawaiian) written for them by one of the parents to help them feel confident in tense moments. She noted a special experience on their first ever day in court, where children from one of the plaintiff's elementary schools did an oli to thank the plaintiffs for standing up for them, and the plaintiffs chanted their special oli back. 
A staunch supporter of such youth efforts, 'Iolani has its own youth climate action team, which is a part of the international nonprofit organization, Citizens' Climate Lobby (CCL). Through CCL, 'Iolani students lobby members of Congress, plan events to get more youth involved in climate justice and spread awareness about the climate crisis. Although CCL and the  case aren't officially connected, members of CCL in Hawaiʻi have been lending their support to the 14 youth as their trial progresses. 
Paul Bernstein, a co-leader of Honolulu's CCL chapter, offered his thoughts on the case. He said, "We both want the same thing. CCL focuses its efforts through lobbying legislators, and obviously Youth v. Gov is going through the courts. But we ultimately have the same goal, which is to ensure youth in Hawai'i, and youth everywhere, have a bright future on a healthy and livable planet." Mr. Bernstein stressed the importance of youth involvement, saying he was glad that young people are taking charge. Logan Lee '25, one of the leaders of the youth climate action team at 'Iolani, agrees with Paul on the importance of youth involvement. When asked about what students at 'Iolani can do to get involved in climate justice and support the youth plaintiffs, he said the most important thing is to "just show up, either in person or on the zoom link." Lee explained that the more people who show support for climate justice, the more decision makers will be inclined to help, such as the judge hearing the students' case. He said, "students can take small steps like saving electricity, but can also take action in their communities by joining organizations and learning of larger actions they can take, like testifying in the legislature for climate change bills, emailing and calling public officials, and going to rallies."
Leave a Comment
About the Contributor
Sophie P., Staff Writer
Hi, my name is Sophie! This is my first year at Imua and my second year at 'Iolani. I decided to join Imua because I've always been interested in journalism,...