Hawaiʻi Football Represented at the FBS Division I Level
Hawai'i is one of the top states in the United States when it comes to producing college athletes, especially in football. Schools such as Saint Louis, Punahou and Kahuku have produced a multitude of college football athletes as well as some NFL players. Here are some notable Hawaiʻi football products playing at the college level currently:
Jordan Botelho (Notre Dame Fighting Irish)
A 2020 graduate of Saint Louis School, Jordan Botelho stands at 6'2 and weighs 250 pounds. He is a linebacker for the University of Notre Dame. Botelho was very successful in his years at Saint Louis, having been ranked as a four-star recruit by 247 sports and garnering over 24 Division I FBS offers. In Botelho's freshman year at Notre Dame, he marked four tackles. As a sophomore, he garnered an impressive 18 tackles, including three tackles for loss and also attained his first two sacks of his collegiate career. Currently, Notre Dame has had a turbulent season in the first year of Head Coach Marcus Freeman's era. So far in the season, Jordan has made two total tackles and hopes to increase this total as the season goes on.
Roman Wilson (Michigan Wolverines)
Roman Wilson, also a 2020 graduate of Saint Louis School, saw an extremely successful career at Saint Louis. In his senior year playing for the Crusaders, Wilson attained 32 receptions for 803 yards and seven touchdowns. Eventually, Wilson chose to play with the Michigan Wolverines concluding signing day. In Wilson's freshman year, he had nine receptions for 122 yards and a touchdown. In Wilson's sophomore year, he had 25 receptions for 420 yards and two touchdowns. So far for Wilson's current junior season, he has garnered four touchdowns, two of them when Michigan played Wilson's native home, Hawaiʻi. 
Jayden de Laura (Arizona Wildcats)
Yet another 2020 graduate of Saint Louis School, Jayden de Laura is a 6'0 sophomore quarterback for the Arizona Wildcats. He started his high school career at Damien Memorial School but later transferred to Saint Louis, where highly-esteemed quarterbacks Marcus Mariota and Tua Tagovailoa developed their football skills. Jayden was rated as a four-star prospect and was also the eighth best pro-style quarterback in the nation. During his senior year, he committed to the Washington State Cougars where he would end up playing two years. He later transferred, just this year, to the University of Arizona as the starting quarterback. Coming off a disastrous two years for the Arizona football program in which they amassed only one win, de Laura and the Wildcats have started off the 2022 campaign strong with a 3-4 record so far. He has thrown for 2,274 yards and 19 touchdowns this season, tied for sixth in the FBS. De Laura and the Wildcats are hoping to finish the 2022 season strong as they hope to ride the momentum that is building in Arizona.
Meki Pei (Hawai'i Rainbow Warriors)
A 2020 graduate of 'Iolani School, Meki Pei is a starting safety at the University of Hawaiʻi. At 'Iolani, he had a breakout senior season where he was awarded the 2019 ScoringLive All-Hawaiʻi Football Division I Defensive Player of the Year. After high school, however, he had a scholarship offer from the University of Hawaiʻi, but decided to go to play at the University of Washington as a walk-on. He played two seasons there and also played in the last 10 games of the 2021 season. With head coach Timmy Chang assuming the head coach position, Meki decided to transfer back to play in his home state. Now in his first year with the Rainbow Warriors, he is a starting safety on a good defensive unit. In his seven games played this season, he has gotten 20 tackles as well as three tackles for loss for a University of Hawaiʻi team that has slowly started to gain some momentum. Meki and the Rainbow Warriors will try to finish the first year of the Timmy Chang era strong with the conference games that are remaining on the schedule.  
Nick Herbig (Wisconsin Badgers)
Also a 2020 graduate of Saint Louis School, Nick Herbig is originally from Kauai and now plays for the Wisconsin Badgers. He was the All-Hawaiʻi Open Division Defensive Player of the Year as a senior in 2019. His brother Nate is the current starting guard for the New York Jets. In his first year with the Badgers, he made six starts at outside linebacker with 26 total tackles and one sack. In his next year, the 2021 season, he started in all 13 games and was ranked fourth in the Big Ten with nine sacks. He was also awarded for his work in the classroom with being selected to the Academic All-Big Ten. In the seven games he played so far this year, he has collected 19 tackles, six sacks and one forced fumble this year. Wisconsin hopes to finish the season strong with less than half the season remaining after a fluctuating start.
Leave a Comment
About the Contributors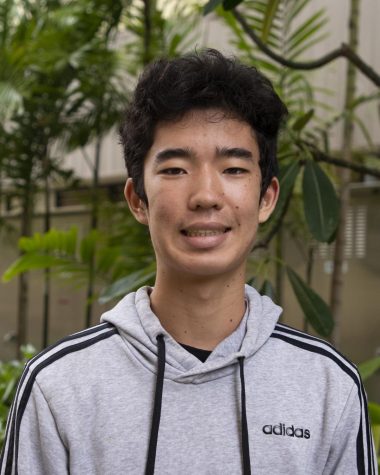 Kai K., Staff Writer
My name is Kai. I am in 11th grade and this is my first year in Imua. I joined Imua because I wanted to try a new thing that seemed fun and also looked...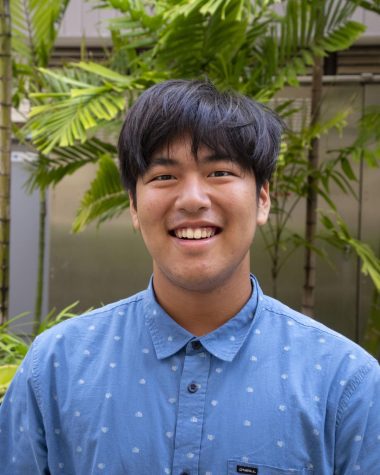 Kolt K., Staff Writer
My name is Kolt and I am a freshman. This will be my first year being a part of Imua. I joined Imua to embrace my passion for writing. The idea of spreading...