'Iolani Varsity Football Stays Undefeated to Conclude 2022 ILH D-I Regular Season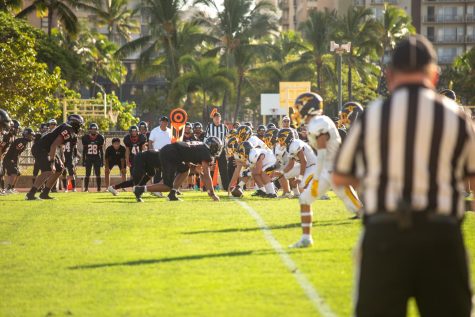 Coming off of a dominant 2021 season where 'Iolani won the HHSAA D-I championship with zero points allowed both in the semi final and the final, 'Iolani's Varsity Football team looked to continue its dominance this year. Including both preseason and regular season games, 'Iolani started off the season 4-0. On Sept. 17, 'Iolani improved to 5-0 with a 13-12 victory over Damien as Allison Chang '23 scored the game-winning field goal with 1:41 remaining in gameplay. Concluding homecoming the following week, 'Iolani faced the Punahou Varsity I-AA team on Sept. 23. This matchup revitalized the long-standing rivalry as the last time the Raiders faced the Buffanblu was on Oct. 17, 2016 at Punahou's home field, Alexander Field. In the first quarter, 'Iolani was able to achieve a 28-0 lead scoring four touchdowns, three of which were running touchdowns and the other a passing touchdown. Two of the three running touchdowns were from Keao Kawaakoa '23 with one from 39 yards out and the other from two yards out. Jones Vierra '25 scored the other touchdown run on a one yard run. The passing touchdown was caught by Nela Taliauli '24 on a seven yard pass from quarterback Micah Hoomanawanui '23. 'Iolani maintained this lead and eventually won the game 35-0. 
Coming off of an impressive shutout win, 'Iolani was able to repeat their shutout performance with a 37-0 win over Kamehameha I-AA on Oct. 1. Micah Hoomanawanui '23 threw for 135 yards and three touchdowns, with each touchdown being caught by a different receiver.
The next week, 'Iolani faced Damien again for a highly anticipated game. Many were predicting that 'Iolani's sole loss this season might be to Damien, especially considering the fact that 'Iolani barely edged Damien the first time. To start off the game, Damien scored a touchdown, creating an early 7-6 lead for the Monarchs. However, 'Iolani's offense proved too powerful as 'Iolani scored four more touchdowns to finish out the game. An 81 yard interception return by Brayden Morioka '23 also helped 'Iolani pull away from Damien, 42-13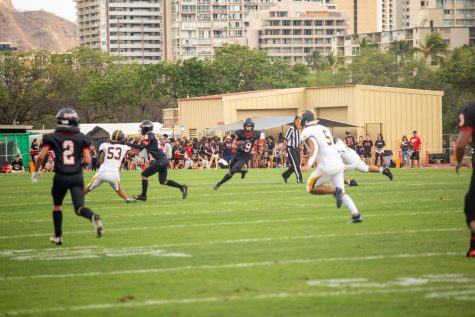 To conclude the regular season, 'Iolani faced Pac-5 on Oct. 14. The Raiders trailed early due to an interception that was returned for a touchdown by Pac-5. However, 'Iolani's high -powered offense in tandem with its dominant defense yet again pushed their way to victory: Keao Kawaakoa scored on an 85 yard kickoff return and Reyn Shimabuku '25 returned a 76 yard fumble early for a touchdown. Freshman quarterback CJ Villanueva '26 threw for three touchdowns to three different receivers. The team displayed their hard work and dedication in athleticism as they finished off their regular season slate with yet another dominant victory. 'Iolani is just two wins away from another D-I state championship as well as another undefeated season. 
Leave a Comment
About the Contributors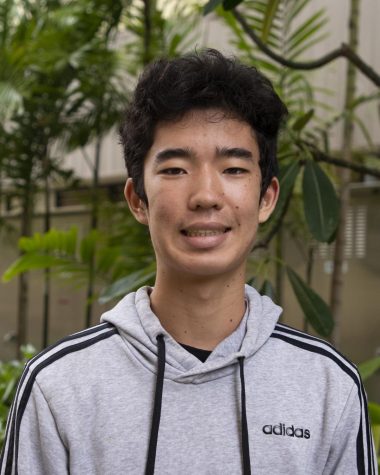 Kai K., Staff Writer
My name is Kai. I am in 11th grade and this is my first year in Imua. I joined Imua because I wanted to try a new thing that seemed fun and also looked...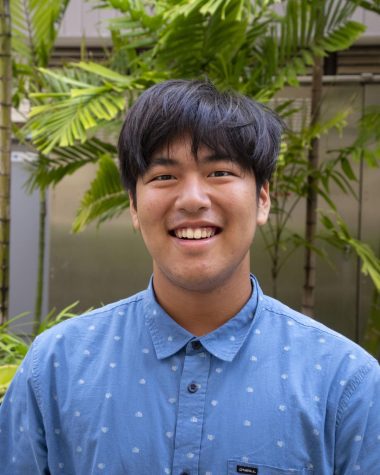 Kolt K., Staff Writer
My name is Kolt and I am a freshman. This will be my first year being a part of Imua. I joined Imua to embrace my passion for writing. The idea of spreading...