A Clean Sweep: 'Iolani Cheer Team Places First at ILH Competition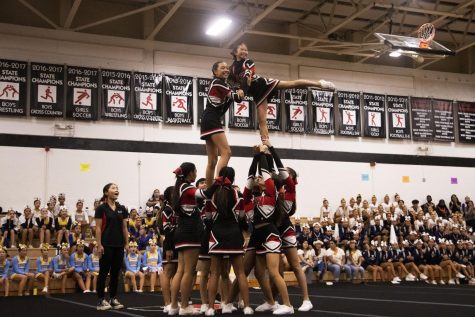 Surrounded by family, friends, teammates and coaches in the 'Iolani School Lower Gym, the 'Iolani Varsity, Junior Varsity and Intermediate Cheer Teams all proudly brought home first place honors in each of their respective divisions at the first ILH cheer competition of the 2022-2023 season, held at 'Iolani School on Saturday, Sept. 24, 2022. 'Iolani also hosted teams from Punahou, Damien, Kamehameha, Sacred Hearts Academy and Pac 5. The titles the 'Iolani Cheer Teams earned are a testament to each cheerleader's hard work and dedication to their sport, as well as the trust and credence between teammates. Varsity cheerleader Katelyn Nishita '25 says, "One of the greatest challenges for preparing for competition is just pushing through the routine [and] making sure you do your part … It's a team effort and requires everyone to cheer each other on." In addition, cheer practices run two hours a day for six days a week, which is understandably grueling for a high school student athlete. Katelyn notes, "People could be injured, sore, tired or not having a good day. However, it is our job to not let that affect our practice." 
Despite the stresses of long practices, 'Iolani cheerleaders have forged lifelong bonds between their teammates through their sport. "Through cheer, I have made some of my closest friends," Junior Varsity cheerleader Lexie Kutaka '25 states. As a tribute to the team's support of each other, before every performance, each squad recites a team cheer and exchanges words of encouragement. Katelyn shares Varsity's team cheer, which is, "Welcome to the new regime, (clap, clap), One Team!" She says, "This is the same cheer we used from last season that got us our ILH championship. It's a constant reminder that we are One Team and that we got this." This bond between teammates attained through cheer is also prevalent in the bonds formed with other cheerleaders. When one attends a cheer competition, it will be clear that each cheerleader in attendance is in support of each other. When a squad performs, it is not uncommon to find teams from other schools lining the front row, smiling bright, screaming and applauding with stunning admiration for their competition. During breaks, cheerleaders sporting different uniforms will link arms and dance in unison to the music remixes being played in the background. Lexie says, "We all share the same butterflies in our stomachs, the hope that our team will hit, and … we naturally cheer on other teams as the energy is exhilarating." 
Despite an impressive and successful start to the season, the 'Iolani cheerleaders worked just as hard in preparation for their most recent competition, which was held at Saint Louis School on Oct. 8, 2022. Katelyn says, "The seniors will be at senior camp, which leaves only five underclassmen left … Although it is a setback that we won't be able to compete with the seniors next comp[etition], we will use this as an advantage to get more time to prepare for ILH champs." Ms. Sheri Nakaya, the 'Iolani Varsity Cheer head coach, adds, "We have overcome many changes already this season with illness, injuries, and roster changes but the cheerleaders always find a way to make it work and support each other.  They do not know how to quit."
"
We have overcome many changes already this season with illness, injuries, and roster changes but the cheerleaders always find a way to make it work and support each other.  They do not know how to quit.
— Ms. Sheri Nakaya, Varsity Cheerleading Head Coach
The 'Iolani Cheer program boasts an impressive resume, with their Varsity team holding first place ILH Champions for the 2021-2022 season and first place at the USA Camp held in August 2022 in Orange County, California. Similarly, the Junior Varsity team holds the second place ILH Championship for the 2021-2022 season and first place at the USA Camp. 'Iolani Cheer's Intermediate team hold the second place ILH Champions for the 2021-2022 season as well. This season, the 'Iolani Cheer program has plans to attend the National Cheerleaders Association High School National Championship in Dallas, Texas in January 2023 and as well as defend their title as ILH Champions. Additionally, this season, Ms. Nakaya hopes to prepare her cheerleaders for the next level, whether it be her senior cheerleaders acclimating to college life, or her underclassmen varsity cheerleaders filling the shoes of their senior predecessors. "I hope that they will feel as confident in themselves as I am in them," she states. 
Leave a Comment
About the Contributors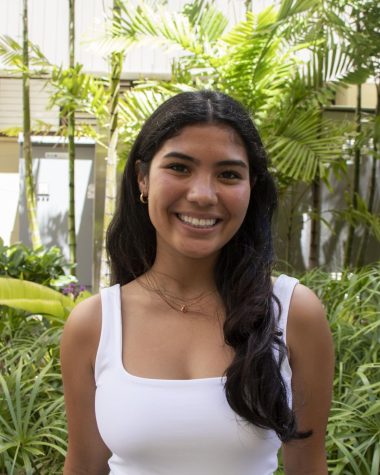 Taybr A., Staff Writer
Hi, my name is Taybr. I attended Pearlridge Elementary before entering 'Iolani school in 7th grade. I am a sophomore and I have been interested and intrigued...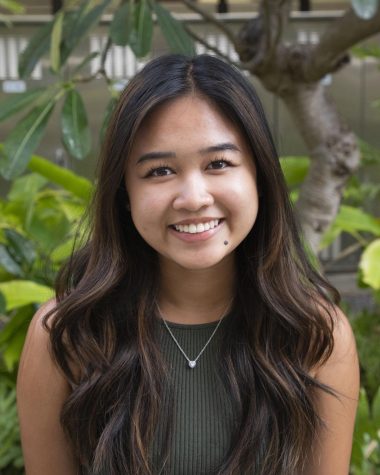 Kaelyn P., Photo Editor
Hi! My name is Kaelyn and I am Imua's Photo Editor. Last year, I joined Imua as a freshman and have grown passionate about writing and photography through...