Raider Football Goes Undefeated for the Regular Season
Despite the challenges surrounding COVID-19 and interscholastic athletic competition, the 'Iolani football team has ended their ILH regular season with an undefeated record of 6-0. 
The Raiders began the season in September with a bold 28-0 shutout against the Damien Monarchs. The Raiders, led by Coach Wendell Look '78 who entered his 30th season as the head coach, posted 388 yards of offense. Running back Brody Bantolina '22 led the Raider rushing attack with 22 rushes for 153 yards and 3 touchdowns. Quarterback Micah Hoomanawanui '23 added 161 yards through the air. Kai Preusser '22 led all receivers in yards and receptions. The Raiders only allowed 149 yards of total offense from the Monarchs and defensive back Hudson Della-Lucia '23 intercepted the Monarchs' quarterback Jensen Tanele in the fourth quarter. 
The Raiders continued their streak with a 46-7 blowout of the Pac-5 Wolfpack. Although the offense scored a mere 193 yards, they had great field position mainly due to the stout defense forcing five turnovers, four of which were interceptions. Ryan Tsuruda '22 had a fumble recovery while the defensive lineman Niko Yim '22 posted a sack. Hoomanawanui passed for 121 yards with two passing touchdowns. Each of the Raider running backs added a touchdown on the ground with Bantolina leading the ground game with five carries for 35 yards.
The Raiders powered through a third, consecutive win against Kamehameha II with a 35-20 win. The game started off slowly for the Raiders, but the Raiders outscored the Warriors in both the second and fourth quarter to take the game. The Raiders started off with Hoomanawanui throwing a pick-six early in the game. However, they bounced back and took a 21-14 lead at halftime. The Raiders turned up the offense and defense, holding the Warriors to only six points while scoring 14 points to pull away. Bantolina had two touchdowns, one with a 21 yard rush. Preusser led the offense in receiving with one catch for a whopping 67 yards and a touchdown. Taniela Taliauli '24 also added a touchdown and ended the game with two receptions for 49 yards. The defense came up with two sacks and two interceptions, both made by Jacob Gaudi '23.
The Raiders posted two shutouts in their next two games winning 47-0 and 38-0 against Pac-5 and Damien, respectively. The defense forced six turnovers in this two game span, and the offense gained over 618 yards of offense while only allowing 81 yards against their opponents. With a win against Damien, they punched their ticket into the postseason and concluded an amazing homecoming week. However, the Raiders' greatest challenge was dawning. Saint Louis II came off a dominating win against Damien and gained 431 yards of offense. Although the Raider defense proved to be a brick wall against run-first teams, this game was truly going to test their pass defense.
"This is going to be a test of their maturity, the character of this team, and to see where they're at," said Coach Look before the game. "If they want to be a championship team, championship teams don't take games off." 
The Raiders on senior night did not disappoint. They came out the gates fast, scoring the first touchdown of the game but both possessed high powered offenses, leading to a 21-21 tie at halftime. In the second half, the Raiders pulled away. They started out with a field goal and after allowing a touchdown, they turned off the Crusader offense and turned on the defense. They picked off quarterback Jaron-Keawe Sagapolutele three times and his backup Shancin Revuelto once. The Raiders capitalized on the turnovers by scoring 31 points in the second half leading to a 52-28 thrashing of the Crusaders. Hoomanawanui had a career day in passing for a season high 229 yards with two touchdowns. Bantolina had 23 carries for 126 yards and had 5 rushing touchdowns — another career high. Taliauli and Tristan Martinez '23 both hauled in touchdown grabs, while the defense notched four interceptions. The Raiders were dominant on both sides of the ball posting an average of 41 points a game while only allowing nine points. Hoomanawanui had 888 passing yards with eight touchdowns and only one interception. Bantolina averaged 6.4 yards a carry with a total of 631 yards in the season. Preusser led the Raiders in receiving yards and catches with 16 catches for 264 yards.
The Raiders posted a 6-0 regular season record and will play OIA Division I opponents Castle and Radford starting on November 5. They will then play in the HHSAA Division I tournament later in December for a bid in the state championship. As always, make sure to check out 'Iolani Live for webcasts of these crucial upcoming games, and a proud shoutout to everyone who is making the team's successes possible!
Leave a Comment
About the Contributors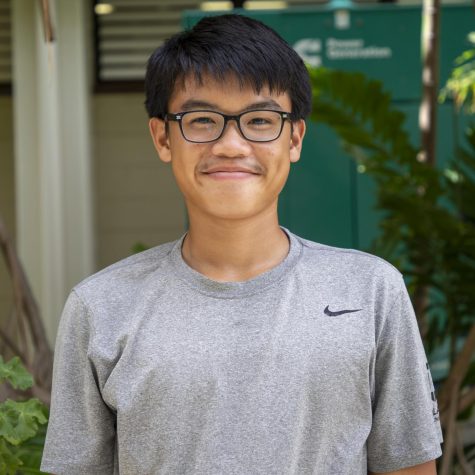 Gervase N., Staff Writer
My name is Gervase Ngo. I'm in 10th grade and this is my first year in Imua. I joined because I wanted to explore more about the world and wanted to...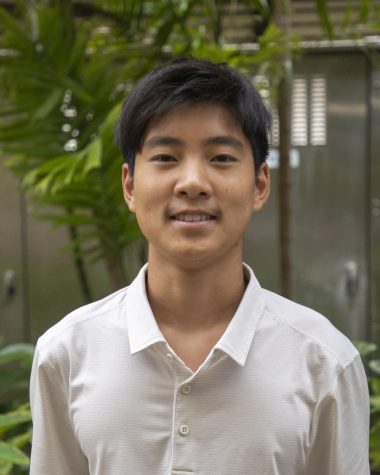 WanHao S., Associate Social Media Editor
Hi, my name is WanHao and I am a sophomore. I came to 'Iolani in sixth grade and I joined Imua last year to try something interesting. In my free time,...