Review of Billie Eilish's "Therefore I Am"
The music industry is rapidly evolving to accommodate the tastes of the current generation, and Billie Eilish embodies the teenage mindset. Eilish was previously a dancer but an injury led her into the music industry. Her first song "Ocean Eyes," a collaboration with her brother Finneas, started her rise to fame. Her debut album was "Don't Smile at Me" in 2017 and her "When We All Fall Asleep Where Do We Go?" in 2019 was the best performing album of the year in the United States and United Kingdom. Her fame continued to grow with "Bad Guy" as her first song to hit the Billboard Hot 100. With her name out in the music industry, Eilish made her way into the movie industry by singing "No Time to Die," the theme song in the newest James Bond film. Eilish now has 5 Grammy awards, 2 American Music Awards, 2 Guinness World Records, 3 MTS Video awards and one Brit Award. She is the second youngest person to win all four Grammys in one year, and her critically acclaimed music videos reflect upon that success. Her edgy fashion style, full of signature neon green attire and baggy clothing are a statement to stand out, and a way to protest against oversexualization of women in the music industry. Eilish hopes to prevent body shaming, be memorable, and make a statement.
The amount of power Eilish has to sway listeners towards herself and important issues is evident in her new song, "Therefore I Am." Going back to Western philosophy in 1637, where René Descartes pondered upon the ability to exist based on the awareness of one's thought. Eilish then remade the phrase, using it in an accusatory fashion against an unknown person in her song. There has been speculation about who the mysterious person or group of people are, the more popular guesses including those who body-shamed her, an unknown boyfriend, or the music industry itself which markets her style and takes away from her as an artist. It is ruthless and the style resonates with her previous hits from her debut album. There is the same hard-hitting beat mixed with some signature playfulness when she returns to the chorus "I'm not your friend or anything / Damn, you think that you're the man / I think therefore I am." Every line has a hidden meaning, and pulls the listener in, if not with her deep, staccato-ish voice, then with the emotion she pours into every word she sings. 
Eilish has come a long way since 2019's more minimalistic approach to "everything i wanted," and each album delves into a different side of her personality that we, as listeners, have not seen before. "My Future," the song before "Therefore I Am" was softer and more soulful, but "Therefore I Am" rings true with her usual, mocking yet entertaining self. "No Time to Die," her first movie theme song, was unique in its orchestral backup and rising crescendos. A school-wide poll asked students what their opinions were on Billie Eilish, and she was quite popular, receiving an average ranking of 7.6/10 stars. 
"I have listened to 'Therefore I Am' and I appreciate the lyrics and the message it spreads, especially with a young audience listening. It allows people our age, who are still finding out who they are, to feel empowered and to know that being healthy is beautiful," stated Crystal Freeze, an avid fan. Most 'Iolani students agreed with this assessment, believing that "Therefore I Am" is one of Eilish's best songs, along with "Wish You Were Gay" and "Lovely."
Eilish is a rising star in the music industry, due in part to her innate ability to pull inspiration from her own life that resonates with millions of others. A standout in every sense of the word, Eilish's self-awareness propels her to greater heights as she refuses to let anyone change her. She is only 18, and already a pop culture icon and role model for many tweens and teenagers. The next few years are extremely promising, and "Therefore I Am" only scrapes the tip of the iceberg.
Leave a Comment
About the Contributor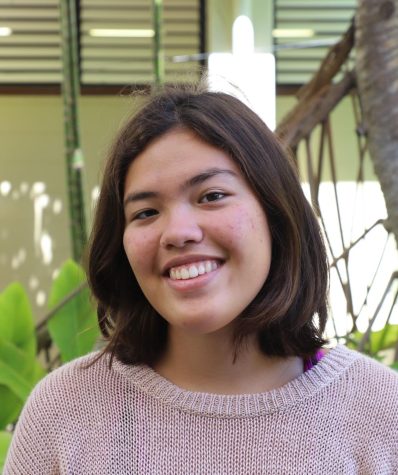 Skye B., Print Editor-in-Chief
Hi, my name is Skye! I joined Imua in 8th grade because it was the only available writing elective, and I stuck with it because I love the journalistic...