In Remembrance of Justice Ruth Bader Ginsburg
She was only five feet tall, but Ruth Bader Ginsburg towered over her legal opponents as a powerful advocate for women's rights, liberty, and American unity. Born in Brooklyn, New York, Ginsburg experienced turmoil at an early age when her mother died just before she graduated high school. Rather than languish in sorrow, Ginsburg used this as fuel to further her education, for her mother had instilled a love of learning in Ginsburg, for she herself had lost the chance to go to college, instead working a minimum wage job so that her brother could go to college. Ginsburg continued to excel at Cornell, where she graduated at the top of her class in '54. She then married, put her education on hold, and started a family. After her husband was drafted into military service, Ginsburg returned to school, this time at Harvard Law. 
At Harvard, Ginsburg struggled as one of only nine females in a 500-person class, fighting to stay at the top of the class while keeping her cancer-stricken husband up to date on his studies. On top of this, Ginsburg experienced gender discrimination from Harvard higher-ups who blamed her for taking a man's position at Harvard Law. Little did they know that this gender discrimination would light a fire in Ginsburg as her passion for women's rights was only strengthened by personal experience. Later, Ginsburg transferred to Columbia Law School and graduated at the top of her class. However, discrimination against women didn't end inside the classroom in the 1960s, as Ginsburg could not find a job even with her exceptional credentials. Eventually, a favorite Columbia professor stood up for her, refusing to recommend any other Columbia graduate before U.S. District Judge Edmund L. Palmieri took Ginsburg on as a clerk. After clerking under Judge Palmieri for two years, more opportunities were offered to Ginsburg at law firms but all of them were at a much lower salary than her male co-workers. 
Ginsburg decided to take her life in another direction, and she became the first female professor at Columbia to earn tenure. In addition to this, Ginsburg also directed the Women's Rights Project of the American Civil Liberties Union in the 1970s. In this position, she won six landmark cases in the U.S. Supreme Court, all for women's rights. Ginsburg did not limit herself to female discrimination. She fought for men who were discriminated against as well. Ginsburg later accepted Jimmy Carter's appointment to the U.S. Court of Appeals for the District of Columbia in 1980, and in 1993, Bill Clinton appointed her to the Supreme Court of the United States as only the second woman to receive this honor. 
As such an influential person, Ginsburg became a beacon of hope to many for she refused to conform to the rules set before her, instead choosing to make her own. This perseverance is what sets Ginsburg apart. Her strong work ethic and fierce personality have elevated her to a liberal icon. Ginsburg was coined "The Notorious RBG," a modified version of rapper Biggie Smalls's B.I.G. nickname, after her dissent in the Supreme Court case Shelby County vs. Holder. This newfound fame continued when her Jewish grandmother image became even more popular through Saturday Night Live skits, an RBG movie, and a documentary entitled "On the Basis of Sex." All of these outlets appeal to young women and millennials, and Ginsburg's fan base continued to grow. 
September 18th marked a sad day for many as Ginsburg died from pancreatic cancer complications. Thousands of people commemorated Ginsburg's death and she was the first woman and Jewish person to lie in state at the capital. In her death, a vacancy was opened on the Supreme Court, six weeks before the presidential election. Ginsburg asked that she not be replaced before a new president was voted in but President Trump did not allow this. He used Ginsburg's death as an opportunity to turn the American people's eyes away from COVID-19 and toward appointing a new Supreme Court justice. If a new justice is appointed, the conservative majority will be established for years, tilting the scales in the right wing's favor and undoing the balance between conservatism and liberalism that Ginsburg worked so hard to preserve.
The notorious RBG is gone but the message of gender equality that she strived for lives on. The decorum and candid behavior in her last moments, along with her humor throughout her cancer battle, was admirable and befitting of her strong character. America lost one of its most iconic judges in the passing of Ruth Bader Ginsburg. But with every person she helped, she left a lasting legacy. In the wise words of Justice Ginsburg, "There is no man, no woman, who has it all. Life just isn't that way." Throughout hardship, Ginsburg became a role model for the underrepresented and continues to inspire others to be their best self, regardless of social stigma or predefined gender roles. 
Leave a Comment
About the Contributor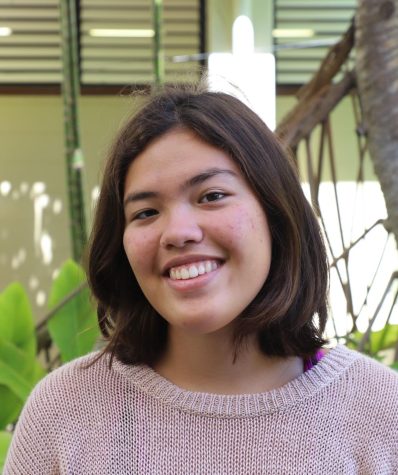 Skye B., Print Editor-in-Chief
Hi, my name is Skye! I joined Imua in 8th grade because it was the only available writing elective, and I stuck with it because I love the journalistic...