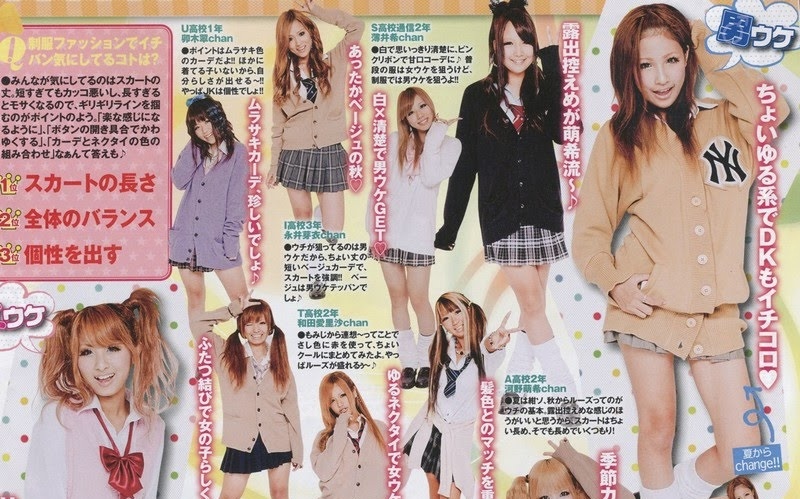 If you're searching for a change in the new school year, an update on your wardrobe can help you feel and look your best. At 'Iolani, students have the opportunity to express themselves through their own unique fashion styles. Since there have been recent changes to the dress code, you may be wondering how to stay stylish while also following the guidelines. This style guide will help you diversify your closet,  as well as introduce you to alternative Asian fashion trends to save you from the infamous "I don't have anything to wear" crisis. Toss out that old and tattered "outfit repeater" title to the past, and become a fresh and fashion forward student! 
When putting together any outfit, owning basic pieces are a necessity, and  statement pieces come later. Basic pieces will allow for versatility in your wardrobe and will act as the "base" before layering and accessorizing. For tops, consider purchasing or incorporating solid white or black sweaters and button-downs. For a softer and more feminine look, the rounded shape of peter-pan collared blouses can add a sweet and chic touch. For bottoms, pleated or flowy skirts in white, black or your favorite patterns and colors are a go-to. Not one for skirts? Don't fret! Baggy cargo and flared pants are a funky alternative. Finish it off with a pair of cool shoes! Chunky sneakers, black platforms or dark colored loafers will  help you put your best-dressed foot forward.
As accessorizing and layering play a huge role in styling an outfit, turning to different types of Asian fashion trends, in which most stress the importance of accessories and layers, can help you to find a style you'll love!
Kogyaru, or kogal, is considered a substyle of gyaru, a Japanese fashion and social movement that defies traditional Japanese beauty standards and is defined by its unique stylization of school uniforms. High school girls wear their school uniforms with button-down shirts, pleated skirts, and a bow or tie wrapped under the collar to add flair to the look. Loose socks or leg warmers can also be used to accessorize. The adorable statement of oversized cardigans are both practical and fashionable, and can be used to bundle up in cold classrooms, or tied around the waist when it gets too hot out. This school-appropriate fashion style is casual and charming for those who want a neat and cute appearance. If you choose to wear this style, please avoid claiming the gyaru title without knowledge of gyaru culture and history. Gyaru fashion and lifestyle coexist and intertwine with one another. As such, it is highly discouraged by experienced gyarus to refer to yourself as a gyaru if you do not actively participate in all aspects of gyaru culture (such as makeup, hair, slang and dancing) out of respect for the origins of this social movement. 
The famed "cottagecore" aesthetic that gained popularity on TikTok in 2019 is closely related to the Japanese style mori kei, which sprung to life in the 2000s, and predates cottagecore. With a focus on earthy tones, soft colors and loose layers, this fashion style is straight out of a fairytale. Long and flowy lace-adorned skirts or dresses are worn with puffy sleeve blouses. The statement piece is usually a pinafore dress, knit cardigan or poncho, augmented with loafers or boots in light colors. Not only is it the perfect outfit for picking flowers or aimlessly wandering a garden, but it's also an adorable and comfortable style choice to wear to school.
Curious to find something with a little more edge? Acubi fashion might be your thing! This popular Korean street style is based on a clothing brand called "Acubi Club" and is inspired by the elements of the bold, futuristic appearances of Y2K (Year 2000) fashion. The Acubi brand and early 2000s fusion mix together to create a sophisticated, mature style. The base is simple, as fitted tops and baggy jeans in neutral and muted colors are the core of most acubi outfits. Cropped, baggy, sheer or mesh outer garments spice up the coordinate for a layer of texture and dimension. To top it off, chunky shoes create a sweet balance between simplicity and novelty. Avoid using big, heavy accessories in order to keep a refined silhouette. Instead, use dainty jewelry or a small pair of headphones. Now you're ready to walk down the hallways with a cool and polished flair!
Fashion fosters a sense of individuality and a fun outlet of self-expression through clothing. While this style guide includes specific trends and examples of outfits, remember not to get too caught up in sticking to what's popular. Experiment with different pieces and styles to discover what you love to wear. Dress to impress the true, stylish you, and you'll be a trendsetter anywhere you go!