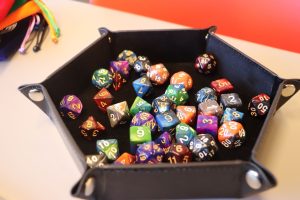 You might have heard of Dungeons and Dragons (D&D), but do you know what it is and how it works? Here are a couple of misconceptions, and information about where you can play in this quick read. 
D&D is a fantasy roleplaying game where players navigate an interactive world that is controlled by a dungeon master. It was published by Tactical Studies Rules in 1974 but was bought by Wizards of the Coast in 1997.The game played by small groups of people, each group consisting of players and dungeon masters. Players are those who interact with the world. They roll dice whenever they attempt a challenging task. The higher the number rolled, the higher the chance of success. Dungeon masters are those who design and control the world, filling it with life and creating a story for players to act out. 
"A common misconception is that D&D is intimidating or hard to get into," Lindsey Dong '23 remarks. A plethora of free online resources, such as D&D Beyond, various dice-rolling sites and downloadable empty character sheets support this statement.
"[Another] common misconception is that you need to know what you're doing when you come to play, but D&D is about learning as you play," says Ms. Devon DeBevoise. While there are plenty of rules to learn and items to experiment with in D&D, rules are just suggestions. For example, while a guide may say that magic beans must be planted to spring to life, it is ultimately up to the dungeon master to choose what might make for a compelling story. At the end of the day, D&D is about enjoying yourself with your friends, whether that means you are saving a princess or seducing the Grinch. "That's the main thing: If you're not having fun, there's a problem," summarizes Tabletop RPG Club president, Drew Tamasaka, '24. 
A difficulty one might face is finding a group of people and a place to play. After all, this campus, swarming with life, does not quite fit the bill for a distraction-free environment. One place you could go includes Cafe Vilamor, a coffee shop located on 825 Ilaniwai Street. It hosts D&D community nights from 5:30 p.m. to 8:00 p.m. Monday through Thursday. Another place you could go is online. There are various Discord servers, the 'Looking for Players & Groups' board on D&D Beyond, and Roll20. You can also join 'Iolani's Tabletop RPG Club. In addition to D&D, the club is home to multiple other tabletop RPGs such as Pathfinder and Call of Cthulhu. 
From fireballs to dungeon crawls, from rolling to roleplaying. Dungeons and Dragons is a thrilling play that everyone should try at least once in their life!