When Jaron Kawamura arrived at the Ala Moana Hotel on Jan. 19, he "really didn't expect to get anywhere." By the time he departed the next day, he had won a free trip to Virginia.
Kawamura was the youngest of six finalists crowned at the 2020 Pacific Symposium for Science and Sustainability (PS3). He earned this recognition for his research on estrogen pollution in aquatic ecosystems. Few are ingenious enough to even think of examining "the feminization of fish," but Kawamura could not take all of the credit for his idea.
"[In a different study,] Madison Kai ['21] found that there was a lot of estrogen in the Ala Wai Canal, so we decided to learn about what effects those high concentrations have," said Kawamura.
With the help of Tyler Matsuzaki '22, Kawamura conducted an investigation that revealed sexual and morphological irregularities in fish from the Ala Wai, as well as an abnormally low ratio of male fish to female fish. Kawamura's research paper, "Estrogen Pollution and the Altered Sexual Development of Sarotherodon melanotheron and Oreochromis sp. Tilapia," earned him a spot as the only sophomore in a group of 12 semifinalists.
But that was only half the battle. In order to advance further, Kawamura had to present his findings to a panel of experts in the field, one of whom he noted was an especially harsh critic. While this nitpicky judge's questions flustered most of the contestants, Kawamura knew just what to say when his credibility was at stake.
"I explained to him that our project was a special case, and I think that showed the other judges that I knew what I was talking about," said Kawamura.
Overall, Kawamura was not especially nervous during his performance. Considering that he did not even expect to become a semifinalist, he felt he had little to lose at that point in the competition. One can only imagine how pleased he was with the outcome.
"I was so…hyped and surprised," said Kawamura, struggling to describe his moment of victory.
Kawamura was one of six finalists, but only five students can represent the Pacific Region at the National Junior Science and Humanities Symposium in April. Thus, Kawamura does not yet know if he will be taking an all-expense paid trip to Virginia this spring.
In the meantime, he continues to feed his fascination with local aquatic ecosystems. Kawamura aids an environmental organization called Nā Wai 'Ekolu that, among other things, monitors the health of native species. He is also an active member of the Surfrider Club, which deals with water quality and waterway health around the Ala Wai and Waikiki areas.
It is clear that Kawamura's passion extends beyond the science lab. His success in the PS3 may have made him a finalist, but his attitude and contributions toward water sustainability make him a true champion.
About the Photographer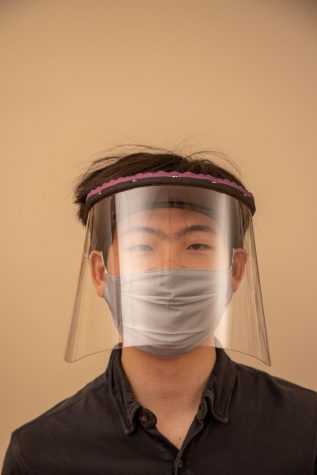 Jayson G., Print Editor-in-Chief
Demoralized by a loss in the final round of a seventh grade robotics tournament, I decided to switch over to Newsroom in the eighth grade. I have not looked...