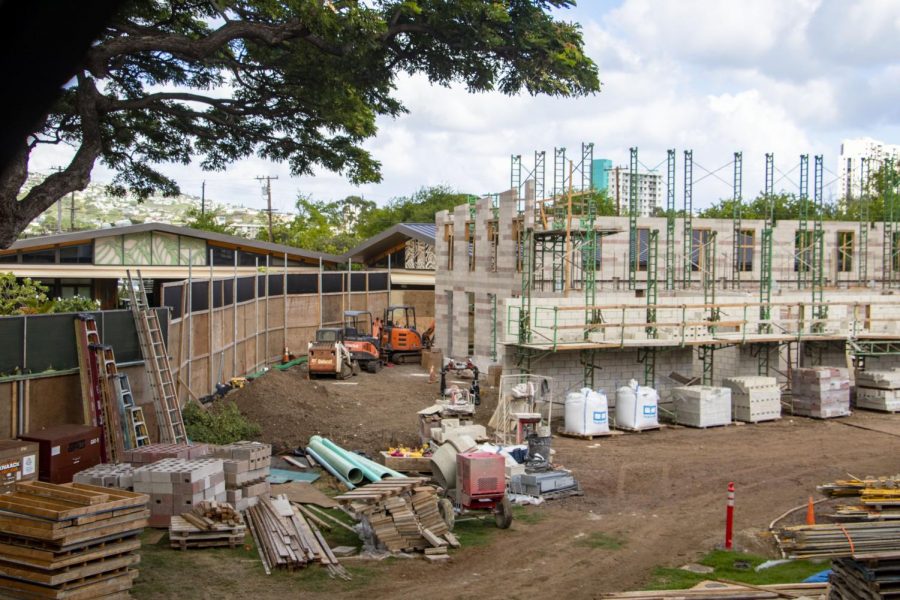 Under Construction
In the span of a year, 'Iolani's ambitious construction plans have brought us the residential dorms and new K-1 campus. Luckily, there is more to come. In April 2020, Lower School will receive another two campus additions: the Science and Innovation Center and Dance & Music Studios Building.
     The Science and Innovation Center is a two-story building. On the first floor, there will be three new science labs for grades two through six. The second floor will be a mini fabrication lab, including 3D printers, laser cutters, and other design and fabrication machines. Another room, similar in function to a library, will also be built for teachers to work with students in small groups, conduct formal assessments, or for professional development. A divider can quickly and easily turn this multi-functional room into two. Next to this room will be a new religion classroom with a view of the natural playground.
     In between the two buildings will be a deck that would be used as a large gathering space for assemblies, chapel, and even dance and theater performances. This space reflects designs from trees and nature and is meant as a transition space between the two buildings. Across the deck will be the Dance & Music Studios Building. This one story building will have a high ceiling with beautiful windows looking out over the deck.
     Integrating nature is a big part of the plan. Large windows, natural light, and gardens bring the outdoors in, increasing the scope of where students interact with science. Taking the place of Convention Drive will be a sweeping grassy lawn that will lead up to the double doors of the Science and Innovation Center. This courtyard will be used for big lawn games such as soccer or football and will serve as a beautiful entrance into the campus.
     The potential experiences just waiting within the foundations of these buildings, are tantalizing. The questions alone, of what could happen are endless. As Mr. Zachary Linnert, Dean of Lower school explains, "Every time you get something new, it invites you to reflect on what you're doing, and wonder: with this, what can we do?"