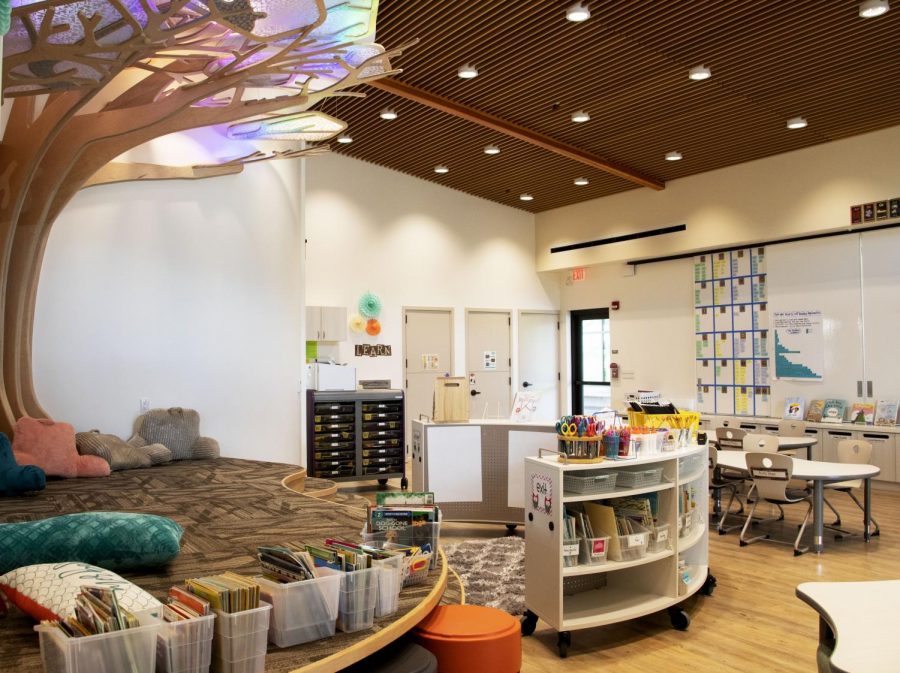 Sustainable Students Get Down to Earth
Many start their days by catching up with the news, but few expect it to change them in the way one article changed Annie Heinze '20.
     In early 2018, Heinze read a "New York Times" report about slave wages and child labor in the fast fashion supply chain. Faced with the hidden human costs of an industry already notorious for high environmental costs, Heinze felt compelled to educate herself on contemporary sustainability issues.
     "I was getting so sad. I felt like I had to do something because I didn't just want to sit there and feel bad about what was happening," said Heinze.
     That "something" first took the form of a living wall that, at the time, was anything but alive. At one point, the brick-red board on the wall of the Sullivan Center for Innovation and Leadership supported rows of plants, but an irrigation system malfunction left the once-green wall to wither. Heinze had long taken notice, but it was not until she took sustainability specialist Dr. Millikan's Marine Biology class that she mustered the courage to intervene. Much to Dr. Millikan's delight, Heinze offered to take the dead plants down and replace them with new ferns.
     "I wanted that to be the first step to show people that being sustainable isn't difficult. The small things matter too," said Heinze.
     Having become acquainted with Dr. Millikan, Heinze decided to take further action. She enlisted the help of classmate Rylee Cockett '20 to promote the 'Iolani Sustainability Goals, a plan of action developed by their Marine Biology class. More a set of outcomes than a list of tasks, the plan traces a path toward a sustainable campus, while offering enough flexibility for students to design projects that interest them. Heinze and Cockett then combined forces with the Global Issues Network Club to found Students for Sustainability, a club that brings together students who wish to pursue a project related to an 'Iolani Sustainability Goal.
     "The club allows us to look at all these projects as a whole through the plan. We want everyone working together, even if on separate projects," said Dr. Millikan, the club's adviser.
     While the club has only existed for a few months, student initiatives for plant-based lunch options and reduced plastic use have been in progress for years. Additionally, 'IO Farms, a student-
run farmers' market, aims to promote gardening on campus and bring locally-grown produce to the community.
     Waste reduction and sustainable food sourcing comprise only a third of the club's six goals. The plan also emphasizes an "'aina-based education." In addition to offering gardening classes in Lower School, Students for Sustainability also hopes to inform students about climate change and the benefits of a plant-based diet.
     "It is our kuleana to provide a real-world education in classrooms," said Dr. Millikan.
     Another important piece of the plan is social sustainability: an often overlooked component of a sustainable campus and world.
     "When you think about sustainability, you might think about less plastic use and cutting carbon emissions, but sustainability is about the wellbeing of people too," said Heinze.
     One such measure that students will surely welcome is the goal of "wellbeing at school," which seeks to reduce overall stress levels. The final two 'Iolani Sustainability Goals promote renewable energy and sustainable architecture.
     With the latest deadline in the plan set for 2040, Students for Sustainability's work has just begun. Students for Sustainability invites students of all ages to join, for the power of an eco-friendly force lies in its numbers.
     "I'm not doing anything on a global scale [myself], but it's more about community engagement," said Heinze. "Once you get a small group of people going, they can get more and more people, and that's what it's really about."